If you have an Amagansett Library Card, you have access to thousands of eBooks and eAudiobooks with the Libby app! Once your Libby account is set up, you can read or listen to books on any smartphone or tablet- you can even set it up to send books right to your Kindle.
Follow these steps to get started. If you get stuck, just visit the library and we can get you through the initial set-up. After that, it's a breeze!
Create your Livebrary Account Password
Create an account on Livebrary at search.livebrary.com/iii/cas/login. If you know you already have an account, you can skip this step.
You will need your library card barcode number, as well as access to your email. Just click "Create a password", seen in the image below. An email will be sent to your email address on file with a link to set up your password. Once this is done, you are ready to download Libby. If you get an error message, or don't think you have given the library your email address, give us a call and we can help you.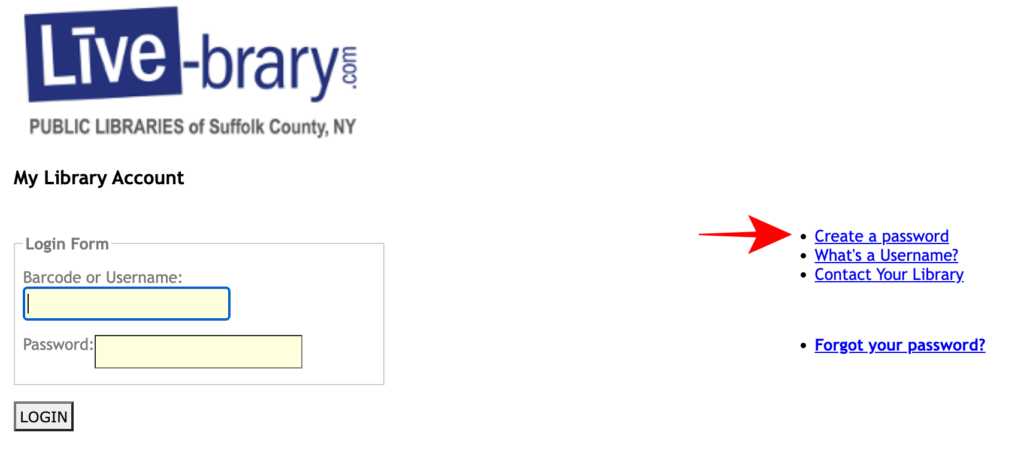 Download Libby
Download Libby on your smartphone or tablet from your device's app store. Click here for the apple store app, or here for the Google Play store app (for Android devices).
Libby Guides the Rest!
Open your new Libby app. Libby will guide you in finding your library and adding your library card with step by step questions. When it's time to add your card, use your library barcode and enter your Livebrary account password.
Finally, Experiment!
There are so many eBooks and eAudiobooks to explore! You can also have fun with Libby's settings- you can set it up to send everything to your Kindle, or read in the Libby app. In Libby, you can also change the speed of audiobooks, or change the background of eBooks to a darker color to help your eyes, or make the font bigger- there are choices to help everyone.
Happy Reading!